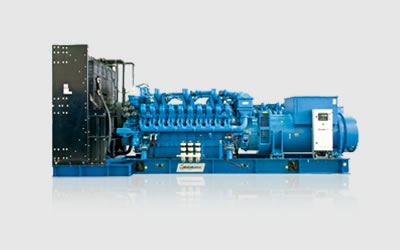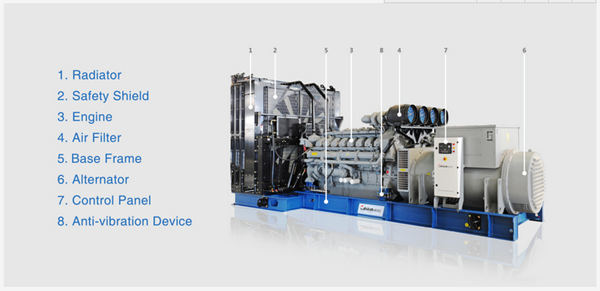 Powerful Engine
Our open type gensets adopt well-known MTU, Perkins and Cummins engines.
These engines are characterized by high power output, easy maintenance, compact size and long service life.
Superior Emission and Exhaust System
Our open type diesel generator set is equipped with stainless steel corrugated tube to ensure smooth air emission.
Radiator is designed with air cooler, ensuring normal performance at 40°C.
Alternator with Excellent Performance
Alternator with stable performance and high efficiency;
Leroy-Somer IP 23 Class H brushless alternator, 4 poles rotating magnetic field, single bearing, earth fault protection, electric voltage fluctuation rate within +0.5;
Voltage recovery time of our open type generator set: < 1 second;
Maximum total waveform distortion of line voltage: ≤ 3%.
Modularized Operation of Microprocessor and All-direction Monitor
Controller integrated with digital and internet technology;
Multi-language selection;
Display of the capacity of the whole system allows high efficiency and self-protection;
Automatic control and convenient operation;
Connected with the mains through ATS to realize automatic transfer between the mains and the gensets;
Multiple gensets can be paralleled for larger power needs (more information, please refer to the introduction of control system).
Safety
Our open type genset is equipped with monitor system and emergence stop device. LED display of alarm helps to improve safety;
Engine of this open type diesel generator set has the function of emergency stop to completely remove possible electric shock;
Necessary protective covers ensure the safety of operators.

Tag: Marine Generator Sets | Prime Power Generator Sets | Emergency Standby Power Generator Sets | Water Cooled Diesel Generator Sets