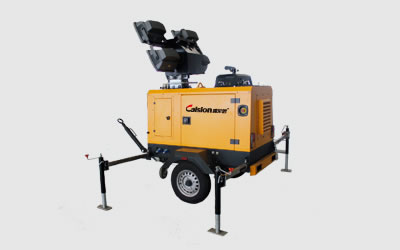 Lighting Tower Generator Set
Equipped with high quality Perkins and Cummins diesel engines, as well as Leroy-Somer, Stamford alternators with superior performance, our lighting tower generator sets are manufactured for providing reliable and continual power.
Features of Lighting Tower Generator Set
1. With galvanized mast and powder coated canopy, our lighting tower genset is resistant to harsh outdoor environment;
2. Heavy-duty silencer and acoustical cotton assist in making the noise level of this diesel genset lower than 75 dBA @ 7m;
3. IP65 lamp protection grade; mast rotation: 356°.
4. Position and angle of lighting tower can be adjusted.
5. Equipped with two IP 56 sockets, this lighting tower genset can provide electricity to electric equipment and power tools.
6. Simple and clear operation buttons are designed on the control panel.
7. Deep Sea controller is used to control this diesel genset. Each lamp is designed with an independent control switch.
8. Emergency stop button ensures safe operation.
9. The mast of this diesel generator set can stay at any height for a long time through one-way valve and hydraulic cylinder.
10. Four independent supporting legs are designed, and the height of each supporting leg is adjustable to adapt to various road conditions.
11. The maximum wind level that the light tower can withstand in working environment is no more than level ten.
12. Rubber torsion shaft suspension system is applicable to all kinds of rough roads, with 20-years' service time.

Tag: Outdoor Power Generators | Diesel-fueled Standby Generators | Prime Power Diesel Generators