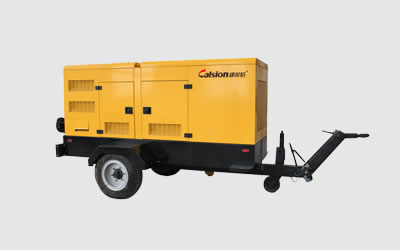 Mobile Trailer Type Generator Set
Feature of Mobile Trailer Type Generator Set
1. This mobile trailer type generator set is suitable for outdoor and maneuverability operation.
2. The wheel chassis traction device helps to fix the generator and adjust the balance.
3. Turn signal, brake light and tail light are designed according to transport safety standards.
4. Cable reel can be pre-assembled, convenient for customer's operation.
5. Single-axle or tandem-axle trailer and parking brake.
6. External fuel port of this trailer-mounted generator set facilitates fueling.
Inertia braking system
Excellent Vibration-reducing Performance
Rubber shock absorber and spring shock absorber greatly improve the vibration-reducing performance of our mobile trailer type generator set on rough pavement, enabling the machine to travel more steadily.
Safety
The rope brake connected with the main vehicle ensures reliable braking performance of our trailer-mounted generator set in case of accidental unhook. The braking force of each single rope is up to 28% of total weight, higher than the ruled 18%, so this generator set is safer and more reliable.
Images

Tag: Mobile Diesel Generator Sets | Mobile Diesel Gensets | Heavy Duty Diesel Generator Sets | Skid Mounted Type Diesel Generator